By Shezad Baloch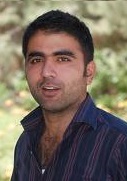 On Wednesday night Lyari witnessed the worst terrorist attack in its history. "Tonight there's going to be a huge crowd," 17-year old Abdul Basit told his family. "I'll need to get there early if I'm going to grab the perfect spot to enjoy the final." With those parting words he headed out to Mir Ghus Baksh Bizenjo Park, known locally as Bizenjo Chowk , to watch the final match of the street football tournament. His father Abdul Rashid, a rickshaw driver, and his mother could not know that this would be the last time they saw their son. Abdul Rashid's rickshaw had broken down a couple of weeks before and the family was now totally dependent on 17-year-old Abdul Basit's daily wage. Basit was auto-mechanic. He worked all day long in a tiny shop to earn a mere couple of hundred rupees a week. Before returning home on Wednesday, he had asked the tournament organizers to tell him the exact kick-off time for the final. He wanted to be sure to get there in time to secure a good seat from which to enjoy the action. The football tournament takes place on the streets of Lyari every evening during the holy month of Ramadan.
An hour before the match starts the grounds fill with people. Some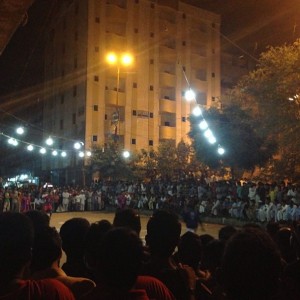 find seats on the rooftops of shops, on buildings and on buses parked nearby. On this night Abdul Basit and hundreds of other kids enjoyed watching the tournament final. The match, played between Ladla 199 and Ladla 102, ended in a draw with a score of 7-7. With that kind of score you can imagine how exciting the match was for the spectators. Ladla 199 was declared the winner of the title after two out of three players from the opposing team failed to score in the penalty shoot-out. The supporters of 199 erupted in cheers and kids started running along behind Atif Ali, aka Messi, who was holding up the winning trophy. They ran a victory lap around the makeshift pitch – more accurately, the road they were using as a football grounds. After meeting their coach Yasir Baloch, who also died in the blast, they decided to run along the streets of Lyari to show everyone that they had won. What they could not know as they were relishing their moment of triumph was that a group of cruel, heartless terrorists had other plans for them.
 As the cheering kids moved a few yards from the field, a huge explosion was heard. In an instant innocent exuberance and joy turned to misery and grief. I was sitting a few yards from blast site and saw thick black smoke envelope the area. There was a brief, terrible silence; then the air was filled with the cries of kids and of people sobbing and wailing. There was a stampede and, for a few moments, a scene of total chaos. Then the rickshaw drivers went into action, rushing to the scene, gathering up the dead and injured and ferrying them to area hospitals. 
 I could not help noticing that police and representatives of other law enforcement agencies were shockingly slow to show up, reaching the scene an hour after the explosion occurred. In stark contrast to the courage and presence of mind demonstrated by the rickshaw drivers, they seemed too frightened to even talk to any of the witnesses. They failed to cordon off the crime scene and abandoned it altogether after a scant hour of "investigation." Lyari's future David Beckham, Lionel Messi, Didier Drogba , Cristiano Ronaldo, Zinedine Zidane, Luís Figo and Nymer were lying in pools of blood. Throngs of older men and women descended on the spot, desperately searching for their loved ones. Those who found their kids alive started kissing them in relief, while those whose loved ones were among the dead or injured went to hospitals or stayed away from the scene. Every Ramadan senior footballers from Lyari organize football tournaments in the streets. An average of two to three thousand people come out to watch these football matches. Lyari's residents believed that this was a time when it was safe to send their kids out to enjoy watching soccer. Even the gangsters could be counted upon to stop using guns and allow the matches to take place undisturbed. Not anymore. Now, adding to the pain and trauma of the attack itself, the organizers of the Karachi Mohammedan Football Club have declared that "Lyari may not organize any football tournament next Ramadan." In Lyari all concluding ceremonies and celebrations for this year's tournaments were suspended immediately after the blast.
The blast site has been crowded with people for the past two days. "They are not human beings. They did not even spare small kids," the people of Lyari are saying, as they look over the wreckage of the blast. "Even if the target was a specific politician or gangster, they had to know that there was a high chance that a large number of kids would also fall victim." Abdul Basit always preferred to be called Lionel Messi by his friends. He was not alone in adopting the name of a football idol as his own. Another blast victim, Abdul Khalil, in his early teens, was happy to answer to Christiano Ronaldo. Their innocent dreams, along with those of hundreds of Lyari's kids, now lie beneath the rubble of a terrorist blast.
Shehzad Baloch is a Quetta based journalist working with Pakistan's leading English daily The Express Tribune as a Correspondent and covering major events taking place in Balochistan. He blogs at

http://shehzi.wordpress.com/
Republished in The Balochistan Point on August 8, 2013