By: Zafar Musyani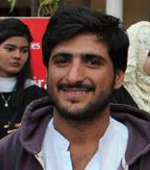 KARACHI: Census in Balochistan would, most probably, change the demographic landscape of the province, because it would leave the Baloch population far behind in numbers than the last census, nineteen years ago, said Mumtaz Sajidi.
Sajidi is a student of International Relations at University of Karachi. He said this while delivering a lecture themed as "The impacts of census on Balochistan and Balochs at Large" on Friday in the series of weekly lectures conducted by the Baloch Students Educational Organization (BSEO), an apolitical students body which works for the uplift of Baloch students who come in the search of education to Karachi.
Mr. Sajidi said the need of the Census cannot be denied as it is the only national survey that informs about the statistics ranging from population to gender differences to migration to so on.
But, despite the positive impacts, he regretted, census was going to be too harmful for the Baloch people due to three important reasons.
First, the presence of around three million Afghan refugees in the province and, worriedly, many of them are alleged to be having fake/issued CNICs.
Second, the huge number of internally Displaced Balochs from various districts of the province to other parts of the country who are not going to be counted. And, not to forget the higher percentage of Balochs who lack CNICs due to the inefficiency of NADRA.
Finally, the sense of insecurity in some of the parts of the province is never conducive for such survey which needs the conductors go door-to-door. He feared that many of the remote and unrest areas would intentionally be skipped by the enumerators. 
He further claimed while responding to a question about the post-census period that the already conflict-ridden province would move towards more conflict and instability, Because, once the concerns of Baloch people turn into a reality so that can help the separatists and in some ways the politic nationalists create a win-win situation for themselves by exploiting the frustration that would hit the lay Baloch man.
To answer another question he said that there is a gigantic difference between an election and census; an election determines the fat of a particular constituency and its inhabitants for a limited time while the census relates to the whole of the population, its existence and the course of action for good.
The students not only asked questions from the speaker but they also participated by expressing their own opinions on this critical topic.
Zafar Musyani is studying International Relations (IR) at University of Karachi,he  writes on social and political issues.
Published in The Balochistan Point on March 27, 2017