By Hebathan Dashti
Quetta: Balochistan Union of Journalists (BUJ), held a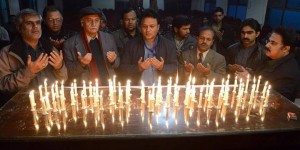 condolence reference on the first death anniversary of the martyred journalists Saif Ur Rehman Saif ,Imran Shaikh, Muhammad Iqbal and others.
The members of the Balochistan Union of Journalists held a condolence reference in the memory  of Saif Ur Rehman Saif, Imran Shaik, Muhammad Iqbal  and others, the mentioned journalists lost their lives on 10th January in a suicide blast at Alamdar road Quetta in which as many as  106 people were killed and more than  150 remained  injured.
The journalist paid rich tributes to their  martyred  fellow journalists and  lit candles in memory of them admiring their  commitment with their  profession.
Senior Journalists Abdul Khaliq Rind,  Saleem Shahid, , Irshad Mastoi  and President Balochistan Union of Journalists Irfan Saeed addressed on the occasion and paid rich tributes to all martyred journalists who lost their lives in the line of duty.

Senior Journalist Irshad Mastoi said, "More than 30 journalists have lost their lives while performing their duty, which proves hardships of journalists working in Balochistn"  
The senior Journalists emphasized on the journalists to work in the very limits in the dangerous situations confirming with the training they have been imparted. The journalists also offered Fateha for their martyred colleagues. 


Published in The Balochistan Point on January 11, 2014