Islamabad: The second Pakistan Mother Languages Literature Festival kicked off at Lok Virsa on Saturdaywith dhammal and speeches expressing the strong urge for celebrating the rich linguistic heritage and cultural diversity to fight rising extremism, and to promote harmony and peace in Pakistani society.
Writers, intellectuals, cultural and political activists reaffirmed their resolve to work for creating a peaceful, progressive and tolerant society based on social justice, pluralism and tolerance.
They also underlined the need for giving education to children in their mother languages and creating space for the creative expression of all indigenous languages and art.
They also called for resolving the languages questions through legislation.
The inaugural ceremony of the two-day mega event was held at the Heritage Museum hall.
Sindh culture minister Sardar Ali Shah, a poet and writer was the chef guest. Gilgit-Baltistan Senior Minister Haji Akbar Taban, was the guest of honour.  
"Violence, terrorism and extremism can be defeated through cultural activities" Naseer Memon, one of the organizers, said in a very moving and emotional but somber note at the opening ceremony of the festival.
"Dhammal, tappa, mahiya, bhangra and poetry of Bulleh Shah, Lal Shahbaz Qalandar, Shah Latif are more powerful than the guns and explosive," he said lamenting the terrorist attack on the Sufi mystic shrine of Lal Shahbaz Qalandar in Sehwan, Sindh two days ago.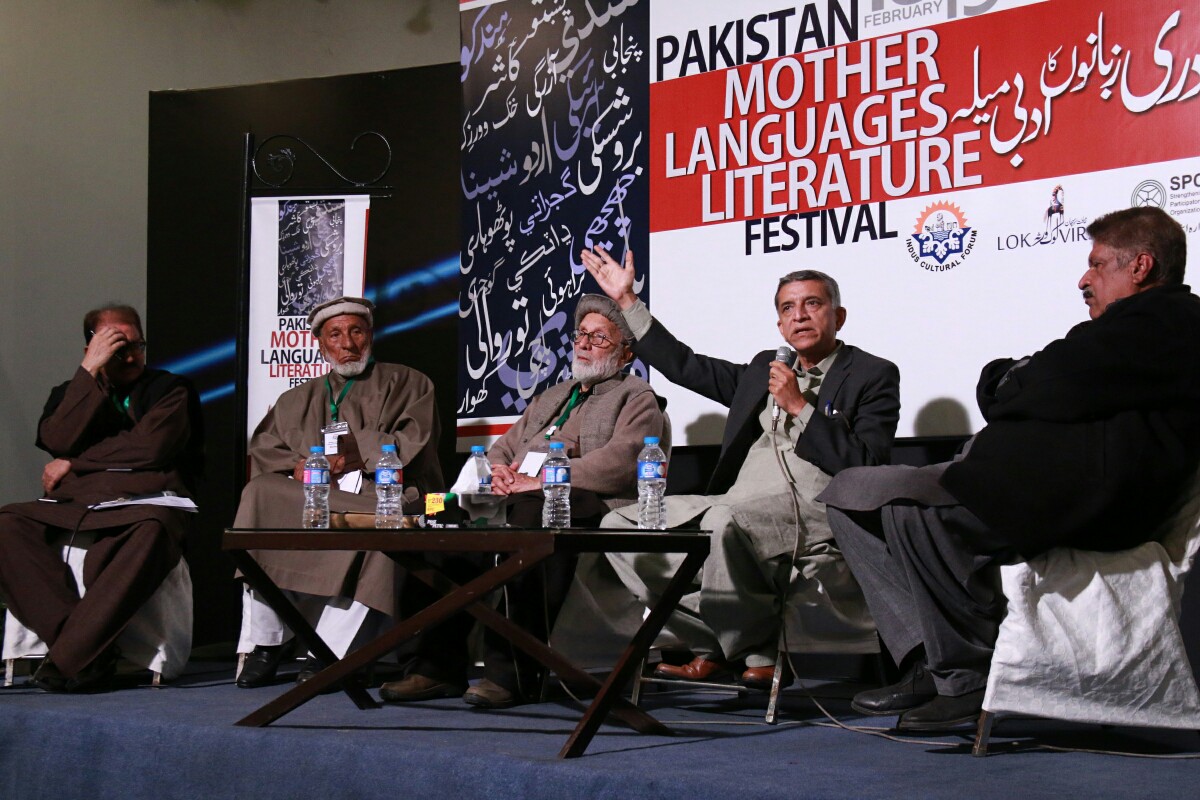 "Culture is the only binding force which connects people belonging to different geographic, ethnic and cultural background, Memon, Chief Executive of the Strengthening Participatory Organisation (SPO) said.
Noted writer, researcher Ahmed Salim in keynote address spoke about the language question in historical perspective, denial of linguistic rights and stigmatizing indigenous cultural identities, the lopsided anti-people policies of the successive governments which led to dismemberment of the country and gave birth to Bangladesh.
He said that our rulers have not learnt any lesson from history and not ready to address this issue. However, he said that it is very encouraging that at least debate has been stared at public and government levels on the issue.
Lok Virsa Executive Director Dr Fouzia Saeed in her opening remarks said that policymaking and language priorities aside, parents should encourage their children to speak their mother language at home so that they feel pride in their linguistic and cultural heritage.
She said her organization has been making efforts for the promotion and preservation of tangible and intangible heritages of the country and transforming the folk art to the younger generation.
Earlier Niaz Nadeem, the founding chief of the festival and Coordinator of Indus Cultural Forum, spoke about the details of the two-day event and said that such events should be organized and assisted by the provincial governments.ICF took the initiative last year to organize Mother Language Literature Festival as an alternative platform to the common people to come together and understand each others' literate and culture.
Saba Gul Khattak of the Foundation for Open Sociey and Nusrat Zehra also spoke on the occasion.
Over 160 writers, intellectuals, critics, poets and artists from all over Pakistan have converged on the capital to discuss the importance of mother language in historical perspective, the challenges they are facing in the face of global media onslaught and technological development.
The two-day festival is being organised by the Indus Cultural Forum (ICF) in collaboration with Lok Virsa and Strengthening Participatory Organisation (SPO), Sindh Cultural Ministry and Open Society Foundation in connection with the International Mother Language Day being observed on 21 February.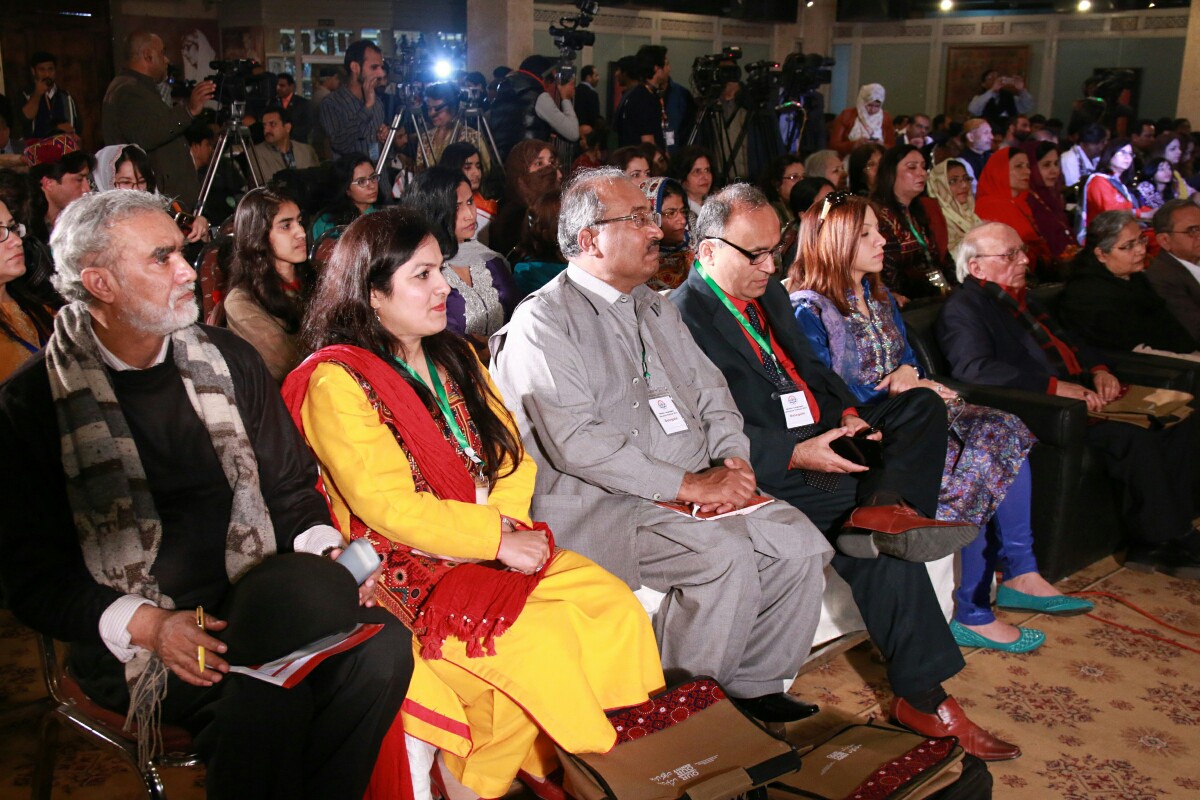 Major attractions of the festival, are all women multilingual poetry recitation, music evening, simultaneous discussions, launching of books written in national languages, screening of documentaries, films and book festival.
Separate exhibition of books written in Sindhi, Balochi, Seraiki, Punjabi and other languages and their translated versions in Urdu and English are also on display.  
The festival is being organized in connection with the International Mother Language Day, a worldwide annual event observed on 21 February proclaimed by the United Nations Educational, Scientific and Cultural Organisation (UNESCO) to promote awareness about the preservation of all languages spoken by people of the world.
Noted writers, poets, language and culture activists including Parveen Malik, Dr Salahuddin Mengal, Zahida Hina, Sultana Waqasi, Mussarat Kalanchvi, Zahid Hussain, Madad Ali Sindhi, Prof Shamim Arif Qureshi, Dr Ummy Salma, Dr Asim Sajjad, Harris Khalique, Mujahid Barelvi, Mazhar Arif and Rahat Saeed spoke at different sessions on "protection and promotion of ignored languages of Pakistan", "Treatment and representation of women in mother languages literature", "launching of new novels in mother languages", "People's history in mother languages" "Role of mother languages in promoting critical thinking", "Political/market economy of languages in Pakistan", "Short stories in mother languages"
It will provide a space for informal interaction with writers and book signing as well.
About ICF 
Indus Cultural Forum (ICF) is a non-profit group of volunteers based in Islamabad. It believes in promoting and celebrating Pakistan's linguistic and cultural diversity. As its name entails, ICF believes in all cultures associated with Indus civilization, from Gilgit-Baltistan to Mehran.
Staff Reporter 
Published in The Balochistan Point on February 18, 2017