By: Yousaf Ajab Baloch  
 The demand for supplying clean and safe drinking water to the residents of Gwadar has once again increased. The dire need of water can be measured that people are compelled to block roads to protest against unpredictable power, and water supply.
The Populaces in Gwadar has been demanding for water for years but the assurance and assertions of legislators, concerned authorities as well as last chief minister of Balochistan Dr Abdul Malik against provision of water to inhabitants of Gwadar have never been proved tangible.
Few months back Federal Minister for Planning, Development and Reform (PD&R) Ahsan Iqbal directed concerned authorities to immediately solve the potable water shortage in Gwadar. Keeping in view the future development of Gwadar City, Port and planned industrialization, the authorities were asked to accelerate work on necessary facilities of fresh water treatment, water supply and distribution project initiated under China Pakistan Economic Corridor (CPEC).
 The significance of Gwadar in region and in China Pakistan Economic Corridor (CPEC) is well-spoken; on the contrary, despite being an important point of the China-Pakistan Economic Corridor, the population of Gwadar has been confronting shortage of drinking water due to the drying up of Ankara Dam, which is the main source of supplying water for drinking purpose. However, it has reached dead level because its catchment areas had not received rains for many years.  
Though, on the interference of National Accountability Bureau's (NAB) Chairman Qamar Zaman Chaudhry the water desalination plant in Karwat, Gwadar was made functional in 2015, however, it did not last to let people of Gwadar benefit from it. Before long this two million gallons plant could not resume its work on some illogical pretext. From 2008, till today the water desalination plant has never been of any use for the people of Gwadar.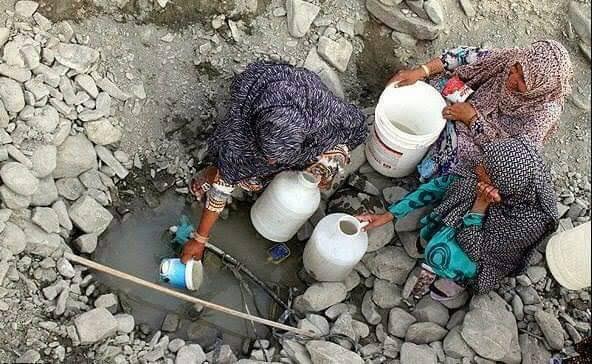 The current chief minister of Baloch Nawab Sanullah Khan Zehri last year approved Rs 55.6 million for immediate resolution of acute shortage of drinking water in and around Gwadar. Projects worth Rs27.803m were also initiated in Krwat with Rs 6.65m approved for the supply of pumps and machinery for a desalination plant.
The water shortage is rising day by day. According to official sources of Gwadar Development Authority (GDA) the current need of water is 4.6 million gallons per day, which is expected to rise to 12 MGD till 2020 and 30 MGD till 2030.  
The inhabitants of Gwadar, several times have remained compelled to purchase water at high rates between the prices Rs 12000 to 16000 which is not affordable for poor population in Gwadar. Currently, Public Health Engineering (PHE) is delivering water by water tankers to the population of around 90,000; with the funds granted by the provincial government.
Speaking to this scribe, Mariyam Suleman, a social activist and journalist said: "Currently water is being supplied from Sawad dam which is in Kulach, a village of Gwadar district. They PHE department is  providing this water through tankers and these tankers fill the water in two head tanks.From these two head tanks then water is supplied through pipelines normally to homes."
Government allocates funds to provide water by tankers but they never bother  to initiate  on the pipeline system from Mirani dam to Gwadar city
 "Each time during water crisis government allocates funds to provide water by tankers but they never bother  to initiate  on the pipeline system from Mirani dam to Gwadar city." She added.
 "People who can afford, purchase drinking water and the ones who cannot drink the water provided by tankers so the vulnerable of them suffer from several diseases."  Mariyam added."
Despite knowing the strategic importance and the beginning point of the CPEC, The authorities have failed to ensure provision of basic facilities of life to the people of Gwadar. In which the chief one is supply of clean drinking water for the local residents.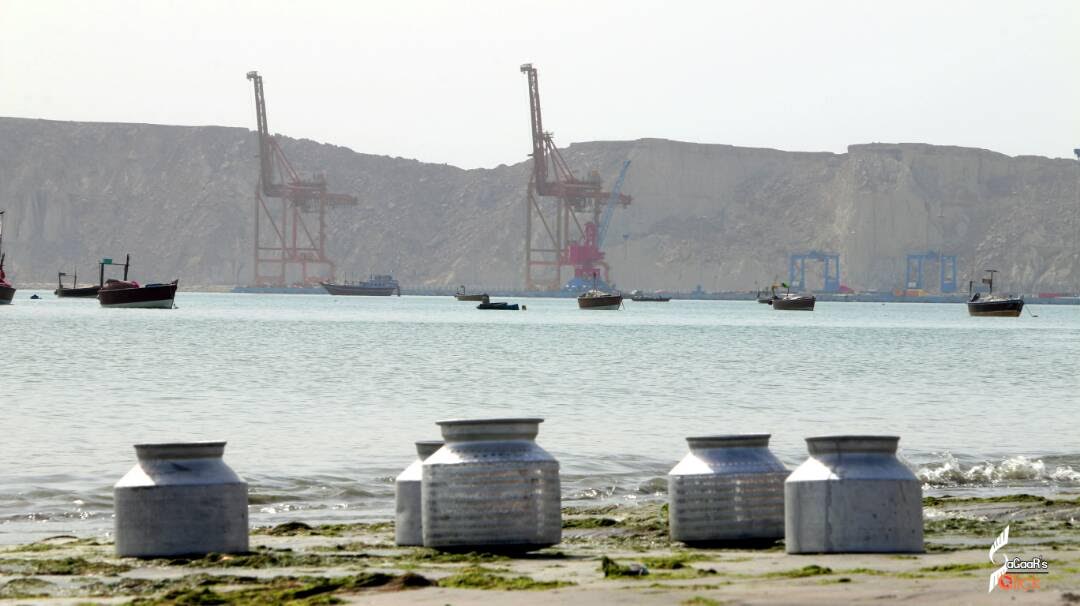 Muhammad Javed Siddique, a resident of UC-Pishukan District Gwadar and General Councilor in incumbent Local Government says: "I am afraid about the future of CPEC, if the people of Gwadar are deprived of the basic facilities of life, how these natives will be facilitated in future."
 "The government is not solemn to solve this issue permanently. It is third time that Gwadar is facing drought stricken situations but the government just took short term measures, instead of long term solutions. Provision of water though water tankers is transient answer but it cannot be sustained," Muhammad Javed said.
Incontrovertibly, Gwadar is the initial point of the CPEC, where more than $1 billion worth of projects have been planned around the port of Gwadar by December 2017.   China has agreed to grant Pakistan $230 million so as to construct a new international airport in Gwadar which is to be operational in coming three years. As well as the projects of $800 million including the construction of a 300MW coal power plant in Gwadar, a desalinization plant, a new well facilitated hospital with 300 beds, and an expressway along Gwadar's East Bay. Pakistan has also shown its interest to establishment of a skills training institute at Gwadar, titled as Pak-China Technical and Vocational Institute to enhance the skills required for operating   Gwadar Port at the cost of 943 million rupees.
Suleman Hashim, a senior journalist at Gwadar expressed his concerns and informed Balochistan Point team that the population of Gwadar had increased then and it had gone over 200,000, quoting the Public Health Engineering Department, he said that the residents in Gwadar needed water between 3 million and 5 million gallons of water per day whereas the current daily water supply mounted at 800,000 gallons. Thus creating a minimum shortfall of 2.2 million gallons.
"The tanker owners have not been paid for the previous trips and the administration owes 650 Million rupees to them."  Suleman Hashim
Brakatullah, a social activist and president of Gwadar Youth Forum expressed his concerns with The Balochistan Point: "The people belonging to agriculture and live stock sectors in suburb areas of Gwadar have migrated to other cities since water can be supplied by water tankers in city but it is very difficult to provide in the villages for all the purposes."
"Currently Gwadar mirrors a drought like situation, the dams and rivers in the area have dried.  If the situation persists so people may be compelled to migrate from Gwadar." Brakatullah told.
For the solution to long lasting issue of water shortage, Brakatullah suggests: "Actually Gwadar is a dried region where the ratio of rainfall is very low; therefore, construction of Dams is not the   permanent justification to water crisis in the area, for the enduring solution from these questions is installation of water desalination plants and this has been proved as good example in Gulf countries."
On the one hand CPEC is claimed to be game changer, on the other hand, no efforts by Sino and Pakistan for provision of basic facilities to population increase sense of deprivation in Gwadar and Balochistan.
Behram Baloch, a local journalist in Gwadar says: "With the passage of time water shortage is rising not only in Gwadar but also Pasni and Jewani. Still provincial Government has not been able to make functional four desalination plants in Gwadar district for making sea water filtered, as it was decided in 2008."
 "It is said that work had started on four of plants, machines for the plants were purchased for setting up, nevertheless, it was assured in written by the contractors to complete work on time, yet, none of the plants has been completed promptly". He added.
Speaking about the sustained solution of water shortage, Behram Baloch said: "The option for installation of desalination plants in Gwadar is very fine, however, it is feared the management will fail in their maintenance since we have already experienced having   single but   non functional plant in our city."
On the one hand CPEC is claimed to be game changer, on the other hand, no efforts by Sino and Pakistan for provision of basic facilities to population increase sense of deprivation in Gwadar and Balochistan. Making the first move as confidence building measure Government and Sino can win the confidence of people in Gwadar and Balochistan, by assuring supply of water through a sustainable way.
 Sulema Hashim told: The best and sustainable way to cope with the water crisis in Gwadar on emergency basis is to begin supply of water from Mirani dam. But it is very essential to work on the pipeline system from Mirani dam or the newly constructed dam of Sawad to Gwadar city."
Yousaf Ajab Baloch is freelance journalist and editor-in-chief of The Balochistan Point. Follow Yousaf on Twitter  @YousafAjab.
Published in The Balochistan Point on May 27, 2017