By Hassan Baloch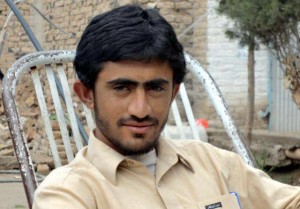 I belong from Chaghi which is an impoverished district of Balochistan. For the last 15 months our member of National Assembly (MNA) is missing from our district. Abdul Rahim Mandokhail is the MNA for NA-260 Quetta-Noshki-Chaghi. He was elected MNA from this constituency after controversial elections on 11th may last year. Since then he has not bothered to visit Chaghi district even once.
According to the sources, Mr. Mandokhail has visited Chaghi district once in his life. That was when he was one his way to Iran from Quetta. He belongs from Zhob District of Balochistan and he is a complete stranger to Chaghi district. He belongs from Pashtunkhaw Milli Awami Party (PKMAP) and there is no presence of his party in Chaghi. Chaghi is a backward district and MNA plays a huge role in development of district. Unfortunately the people of Chaghi are represented by a person in National Assembly that doesn't care about them.
The general elections that took place on 11th May 2013 resulted in the victory of Abdul Rahim Mandokhail from NA-260. He won the election by margin of less than 4000 votes. In Chaghi alone he bagged 5000 votes. This is hard to believe because there is no presence whatsoever of PKAMP in Chaghi. How Mr. Mandokhail secured so many votes from Chaghi puts a question mark on legitimacy of elections on 11th May last year.
As mentioned earlier, Mr. Mandokhail is alien to people of Chaghi. He doesn't know about the biggest problems of the Chaghi let alone doing anything to solving them. Due to his ignorance about our district he can't do anything for its development. Since taking oath as MNA, Mr. Mandokhail has not raised voice for people of Chaghi or their problems even once in National assembly.
There is a fundamental flaw in the constituency delimitation in NA-260. This constituency comprises of 3 districts and its length is over 750 kilometer. If someone belonging from Quetta wins the elections for NA-260 then how can he be the representative for the people in Taftan, a border town of Chaghi district? This fundamental flaw needs to be corrected by re-demarcating the limits of NA-260. I propose that the areas of Quetta which are a part of NA-260 should either be added in NA-259 Quetta-City or a new constituency should be created for them. NA-260 should only comprise of Chaghi and Noshki.
Constituency delimitation is not possible before the next elections, only if the government agrees to my aforementioned proposal in the first place. Meanwhile, we require Mr. Abdul Rahim Mandokhail to fairly represent us in National Assembly and don't restrict himself to a Pashtoon Nationalist.
Lastly, People of Chaghi are missing their MNA Mr. Abdul Rahim Mandokhail for the last 15 months. If anyone found him, then please remind him that along with Pashtoon areas of Quetta, he is also the MNA of Chaghi and Noshki. After reminding him about his responsibilities as a MNA, please guide him about the road directions leading to Chaghi, So that he can finally visit a main district of his constituency.
Hassan Baloch is a freelance writer and journalist and He belongs from district Chaghi.
Follow him on Twitter: www.twitter.com/hassan_chaghi

Published in The Balochistan Point on August 23, 2014.
Disclaimer: Views expressed in this article are those of the author and The Balochistan Point not necessarily agrees with them.