Quetta:  Women of the Baloch National Movement (B.N.M) on Saturday staged a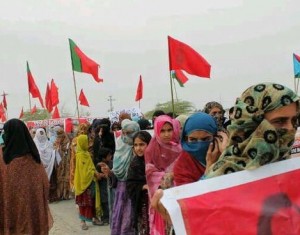 protest demonstration outside Quetta press club against the appearances of mutilated dead bodies  and violation  of human right in Balochistan.
The protesters were holding banners and place-cards inscribed with various slogans. They chanted   slogans against the state institutions and called upon the international human rights organizations to take   notice of the human rights abuse in Balochistan.
Speaking on the occasion  the speakers   said  that silence of   the international  human rights  organizations  over  the brutalities    in Balochistan would further  push  the beleaguered  Balochistan  to    anarchic  situation  and the society  would  drift towards devastation. They stressed upon the international human rights organizations to play their role for the safe recovery of missing persons of Balochistan.
The stressed their gravest concerns over the missing of Dr. Deen Muhammad Baloch, Abdul Ghafoor Baloch, Ramzan Baloch, and Journalist Abdul Razaq Baloch. They said that Baloch political activist were tortured in the torture cells inhumanly. They alleged that hundreds of dead bodies   have been dumped in Balochistan but flag bearers of justice and human rights organizations have restored to a dead silence in Balochistan which they said was regrettable.
Towards the end, the protesters demanded immediate   releases of   the all  missing persons  including  Dr. Deen Muhammad and others.
Published in the Balochistan Point on June 30, 2013