By Ben Farmer, Doha
James Dobbins was expected at the Afghan president's palace after flying from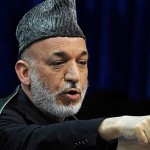 Qatar, with the US still trying to soothe Afghan anger over last week's opening of a Taliban political office in the Gulf state.
The veteran diplomat, who is Washington's special envoy to Afghanistan and Pakistan, must also revive long-running security talks with Kabul after they were cancelled by Mr Karzai.
"He [Dobbins] is going to come and meet the president today," a palace official in Kabul told the AFP news agency on Monday.
The long-awaited opening of the Taliban office in Doha was supposed to herald a step forward in faltering attempts to find a political settlement to the country's violence.
Afghan officials said the raising of the Taliban's white flag and a name plate saying the office represented the "Islamic Emirate of Afghanistan", the name they used in power, broke assurances the building would not have diplomatic trappings.
Mr Karzai cancelled security talks with Washington and threatened to pull his High Peace Council out of the Qatar process, in anger that he had been tricked by both America and the Taliban.
The flag and nameplate have now been removed after pressure from the Qatar government. Workmen putting final touches to the building said Qatar's Ministry of Interior was paying for all work to the building.
The Taliban envoys in Doha have kept a low profile since the row and have cancelled appointments with journalists.
American officials had last week been due to hold their first formal talks with the Taliban, but those talks have still not taken place. Observers say talks will only bear fruit if the Afghan government can reach an agreement directly with the insurgents and Washington has said it wants to see "Afghans talking to Afghans".
The Taliban continue to condemn Mr Karzai as an American puppet and Kabul continues to insist the Taliban accept the Afghan constitution and renounce violence.
John Kerry, US Secretary of State, gave a downbeat assessment of the stalled initiative when he visited the Gulf state at the weekend. He said he was unsure if it was possible to get the talks back on track and warned the office may have to close if the Taliban did not move forward "in short order".